Dance Classes For All Ages !
Call 09999953933 to enroll !
Dance is not a Competition, it's a Passion
We at Dancend believe that when you dance you express your heart.. As they say the journey is important not the end – At Dancend we encourage to Dance to enjoy the present moment and not think about what you will achieve out of that session. OBVIOUSLY IT's a different matter that when you dance bonuses land in your lap and life automatically. Dance therapy is a subject in itself and the physical, mental, emotional benefits of Dance and movement are immense. Dance keeps you physically fit, happy and in the present moment. It ushers in positivity and creativity. It helps people express emotions they cannot in regular life and it drives away the stress of a hectic routine by getting into present moment. It helps in concentration, in sharpening and building muscle memory, in coordination and balance. It helps an adult turn into a child and forget all the worries and responsibilities of life and it helps a child to express, be creative and grow up while having fun. It's a medium through which people connect, make friends and learn to work together in team and group dynamics. At Dancend we encourage all ages and levels to Dance with us. We believe every individual is at a different phase in life physically, mentally or emotionally Our classes are designed in such a way that everybody feels comfortable in the setting — a first time learner who just wants to learn steps to be able to groove at a party or a wedding or a serious leaner who has aims to take up dance professionally. It is for people who want to lose weight while having fun and it is also for people who prefer more detail oriented body mind spirit approach of Pilates, technique work and control. Dancend strives to and will continuously strive to spread it's smile onto every human beings's face — poor, rich, middle class, child, adult, sick, healthy, working across all barriers – natural or man made. Let us all Dancend and bring a positive change in the world through our Dancing souls
Best dancers from around the world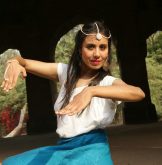 Ruchi is a pioneer and trendsetter of bhangra cardio workout in Delhi and gives classes since January 2012. Ruchi has expertise in various forms such as Bhangra, Bollywood, Contemporary, Belly Dancing, Pilates, Yoga, Jazz and Bharatnatyam. A staunch believer of 'following your heart' philosophy – Ruchi derives utmost satisfaction in guiding people to find their own self and passion.


Ruchi Pushkarna worked in the corporate world as a programmer for 6 years in New York City while continuing her passion for expanding her Dance and fitness vocabulary by studying core strengthening Pilates and various dance forms such as Ballet, Jazz with Heather Culton (New York) and Belly dance with Nourhan Sharif (New York). She took up Bollywood and Bhangra folk professionally by training rigorously under Pooja Narang (student of Shiamak Davar and Saroj Khan) of Bollywood Axion fame, New York City, and got invited to join her professional troupe within a period of 6 months. She performed profusely with the troupe for 3 years while continuing her demanding weekday jobs as a programmer at finance firms like Goldman Sachs and Ziff brother investments.

After spending 12 rewarding years in USA, in January of 2010 she made a conscious decision to move back to India, to fulfill her dream of working directly with under-privileged sections and diving full on into Indian psyche and culture. As soon as she landed in India, she got an offer from Lourd Vijay Dance school, Bangalore, to teach Bollywood in Chennai. She taught and organized Bollywood
section of LVDS Spirit of Dance festival and got featured on NDTV. Meanwhile, she learnt Salsa, Jive and Cha Cha Cha from Arun Srinivasan, an extremely
talented trainer at LVDS, Chennai. At the end of 2010, back in her home town Delhi, she started learning Bharatnatyam at Bhartiya Kala Kendra with Justin McCarthy, and at the same time continued her belly dance education with the revolutionizing Meher Malik's Banjara school of Dance. Her dreams were finally given a concrete shape in 2011 when she brought her life experiences together – dance
training,  academic training and passion to teach – and started her own dance institute "Dancend", that imparts her love of dance and its therapeutic effects to people. Ruchi Pushkarna has been a trendsetter in promoting Bhangra and Bollywood classes in Delhi through innovative choreography and fun curricula.  She currently trains  in Bharatnatyam under Guru Rashmi Khanna (Kalyani Kala Mandir) for her own soul and spirit! She also trains under Raja Anand in advanced contemporary.

Ruchi has performed in cultural shows in the US as part of a Bhangra and Bollywood troupe from 2007 to 2010. Ruchi has performed at several prestigious platforms with notable showcases at Premio Lo Nuestra (Latin Grammys), premiere of Slumdog Millionaire, Golda Meir Fashion Arts Week to name just a few.

Ruchi and her team has conducted  Bhangra and Bollywood workshops in Delhi at different venues and also in Switzerland and Germany. She also organizes Bollywood/Bhangra workshops for expatriates often in Delhi.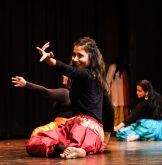 Shivani Pokhrel – a through and true Dancend product – is known at Dancend as Yoga Mata because of her jaw dropping flexibility. She teaches the little children (3.5 to 5.5 years), takes care of registrations, assists the warm-up in Adults classes and is a multitasker that Dancend cannot do without!

Shivani is training under Dancend in Bollywood, Bhangra, Jazz and Contemporary Dance. She is also training in Bharatnatyam with Guru Rashmi Khanna from Kalyani Kala Mandir and in advanced contemporary with Raja Anand – an esteemed director and choreographer.

Shivani is an example of a child who with a little guidance can do wonders. She came to Dancend in 2014 with low self confidence but passion and dedication, and we have seen her grow into a beautiful and graceful dancer thanks to her intense training and strong willpower.

She is not just a gorgeously flexible dancer but is also unbeatable at designing and editing.  She is the mastermind behind posters and videos that we make at Dancend. She is also blooming into a great speaker with time! There can't be a better inspiration for the little children – especially those who are shy to begin with.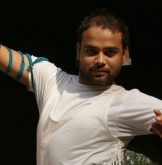 Avinash Thakur, a dedicated dance professional, is one of those people who take detour from what is expected out of them to find their way. A staunch believer of life-long dance learning and a calm and collected personality, Avinash has had to fight the social norms to keep his dance dream alive.
Avinash is trained in Yoga, Chhau, Jazz, Hip Hop, Bollywood, Bhangra, Contemporary and is training currently in Kathak and Bharatanatyam as well. A huge part of his training credit goes to Bhoomika Creative Dance Center, Dance worx, Miss Tripura Kashyap, Mr. Bharat sharma and Ruchi Pushkarna at Dancend. He has been teaching at Dancend Dance Workout classes, kids Jazz-Bollywood classes and Adults Bollywood and Contemporary classes for many years. He has choreographed workshops under the guidance of Kathak Kendra Maestro Shubhash Sir. He has taken workshops at Andretta and as part of the Road Safety Campaign organized and associated with PVR. He has performed in Khajurao festival, at EDMC – Ahsaas Festival Mumbai, in Bhubhaneshwar Contemporary Dance festival, in Nohra Art Centre and at Indian Council of Cultural Relations to name a few.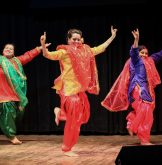 The Swiss Bhangra queen Laura is an example of exemplary student turned instructor. Since ever she joint Dancend, she has been in love with dhol and bhangra beats. She has been training at Dancend since 2012 and made shift into teaching Bhangra in 2014. From 2017 onwards, she carries on Dancen'd legacy in Switzerland by giving classes and workshops there.
" hey hi guys...!! Dancend introduced me to danse in a much bigger way. The energy, passion and love for danse of all instructors is so overwhelming that you look forward to attend the class.The atmosphere is very creative, encouraging and fun filled. The instructors are innovative with the chore's that they make the session very easy for students to pick up by breaking it down in simpler form. Dancend also introduced me to other passionate dancers of the class and met some crazy and wonderful people."
"It's been a beautiful journey with Dancend and its founder Ruchi Pushkarna. She is full of energy and expressions. She play different roles, she is a teacher, a friend, a guide, a counselor. She motivates many people through her dance and has set an example for the people who are passionate for the dance but not able to do because of circumstances around. I joined Bhangra Cardio class 5 month back and I am enjoying it a lot:-)."
"I've never ever liked any form of exercise until I found Dancend. Ruchi makes classes fun, always manages to take some time out to teach every student where they are going wrong, she really knows the body and manages to make you work bits of it you didn't know you had. You get to dance, you get to work out, and more than anything else, you have so much fun. I'm disappointed every time I can't make it to a class, getting to class makes me smile, and who knows - I may be a dancer yet, and I see weight loss on the near horizon I couldn't recommend dancend more - go!"
"When I joint the course, I thought I'd just take it for a few weeks. That's already 2 years ago, and since then I've been attending almost all classes. I just won't want to miss it for anything! Ruchi's energy is contagious, her moves look great and she has a way to teach that makes the students enjoy and learn every day. "